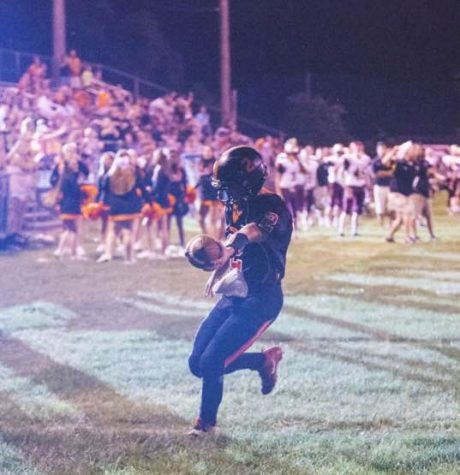 Eli Rafail is a senior and a second year Journalism student.
Eli participates in sports and activities in school including football, baseball, band, Drama Club, Youth Traffic Safety, and the Academic Team.  He is also a member of the Leo Club as well as the National Honor Society.
Eli enjoys playing video games, watching sports, and doing anything with his friends in his free time. He is also the villainous on-screen General Manager, Solomon Price, for the hit YouTube series "Greene County Wrestling."
Eli Rafail, Editor
May 24, 2017

The Time of My Life: A Farewell

(Story)

May 19, 2017

JM Relay For Life Once Again Makes an Impact

(Story)

May 18, 2017

A Night with The Addams

(Story)

May 18, 2017
May 16, 2017

JM Baseball Section Champions Gear

(Story)

May 12, 2017

Rockets Clinch Section Title for the First Time in 29 Years

(Story)

Apr 20, 2017

SADD Students Qualify for State Competition

(Story)

Apr 20, 2017

Walt Disney World's Most Underrated Attractions

(Story)

Apr 11, 2017

Colten Davidson – Athlete Biography

(Story)

Apr 07, 2017

The Undertaker to Hang Up his Boots for Good?

(Story)

Apr 04, 2017

Drama Club Prepares for Opening of The Addams Family

(Story)

Mar 29, 2017

Wrestlemania Preview

(Story)

Mar 24, 2017

Steelers Offseason Update

(Story)

Mar 24, 2017

NFL Draft Right Around the Corner

(Story)

Mar 24, 2017

Rookies Impress at NFL Combine

(Story)

Mar 22, 2017

Why Every Friends Character Is So Great

(Story)

Mar 15, 2017

Disney World: Attractions That Need to Go

(Story)

Mar 09, 2017
Mar 06, 2017

SADD Driving Competition

(Story)

Mar 01, 2017

The Return of Greene County Wrestling

(Story)

Feb 22, 2017

Pandora – The World of Avatar

(Story)

Feb 16, 2017

Star Wars: The Force Awakens Movie Review

(Story)

Feb 15, 2017

Star Wars Theory: What is Rey's Backstory?

(Story)

Feb 09, 2017

Brady and the Patriots get One for the Thumb

(Story)

Feb 08, 2017

WWE Elimination Chamber Preview

(Story)

Feb 02, 2017

Groundhog Day: More Winter to Come

(Story)

Feb 01, 2017

Royal Rumble Review

(Story)

Jan 27, 2017

New Star Wars Title Released

(Story)

Jan 25, 2017

Super Bowl Preview

(Story)

Jan 19, 2017

NFL Conference Championship Outlook

(Story)

Jan 18, 2017

Anna Mattish – Athlete Biography

(Story)

Jan 18, 2017

Devin Stoneking – Athlete Biography

(Story)

Jan 11, 2017
Jan 11, 2017

NFL Divisional Playoff Weekend

(Story)

Dec 15, 2016

Marching Band: The End of an Era

(Story)

Dec 14, 2016

Roadblock: End of the Line Preview

(Story)

Dec 07, 2016

Was Fantastic Beasts Really Fantastic?

(Story)

Dec 01, 2016
Nov 23, 2016

Survivor Series 2016 Review

(Story)

Nov 17, 2016
Nov 17, 2016

Fantastic Beasts and Where to Find Them

(Story)

Nov 09, 2016

Project Adventure for SADD

(Story)

Nov 09, 2016

Eli Rafail's Top 10 Wrestlers of All Time

(Story)

Nov 02, 2016

Superteams: Success or Failure?

(Story)

Oct 26, 2016

Hell in a Cell Preview

(Story)

Oct 19, 2016

What is Walt Disney World?

(Story)

Oct 18, 2016

SADD to Participate in Seat Belt Checks, PSA's

(Story)

Oct 14, 2016
Oct 11, 2016
Oct 05, 2016

"Buctober" No More

(Story)

Sep 29, 2016

Steelers Season Preview

(Story)

Sep 23, 2016

Erin Confortini – Athlete Biography

(Story)

Sep 23, 2016

Joseph Headlee – Athlete Biography

(Story)

Sep 23, 2016

Dennis Garrett – Athlete Biography

(Story)

Sep 21, 2016

Clash of Champions Preview

(Story)

Sep 20, 2016

SADD is the New Happy

(Story)

Sep 16, 2016

Making the Correct Choice for College

(Story)

Sep 14, 2016
Sep 07, 2016
Jun 20, 2016

Chilling Out, Maxing, Relaxing

(Story)

May 24, 2016

Having Wi-Fi in the School

(Story)

May 10, 2016
Apr 26, 2016

Benefits of High School Classes

(Story)

Apr 21, 2016

Trevor Kniha – Athlete Biography

(Story)

Apr 18, 2016

Aaron Mylan – Athlete Biography

(Story)

Apr 14, 2016

Joe Headlee – Athlete Biography

(Story)

Apr 11, 2016

Scheduling Opportunities

(Story)

Mar 15, 2016

Government Privacy

(Story)

Mar 01, 2016

Being Well-Rounded

(Story)

Feb 22, 2016

Greene County Schools Potential Merger

(Story)

Feb 19, 2016

Cell Phone Etiquette

(Story)

Feb 05, 2016

Study Hall in the School

(Story)

Dec 10, 2015
Dec 09, 2015
Dec 07, 2015

12 Days of Football

(Story)

Dec 02, 2015

Walt Disney World Memories

(Story)

Nov 24, 2015

Aaron Mylan – Athlete Biography

(Story)

Nov 20, 2015

Austin DeFrank – Athlete Biography

(Story)

Nov 16, 2015

Thankful for Many Things

(Story)

Nov 16, 2015

Growing Interest in Campaign 2016

(Story)

Nov 12, 2015

Eli Rafail – Contributor

(Story)

Oct 29, 2015
Oct 14, 2015