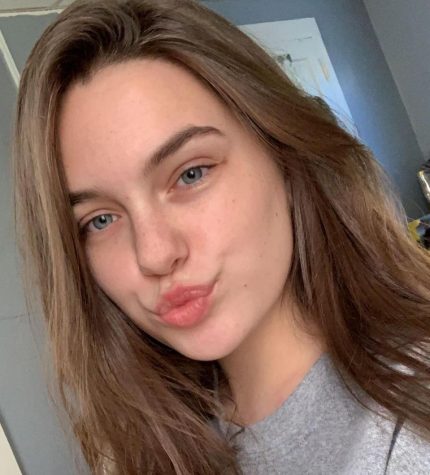 Madison Kovach is a junior and a third year Journalism student.
Kovach is a member of the school's Book Club, Drama Club, and participates in Big Brothers Big Sisters. She show's her horse Cheyanne at local shows and is currently training her other horse for gaming. She is in the 4-H Rabbit Club and Horse and Pony Club. She shows and sells her rabbit meat pens at Jacktown and shows her other rabbits at the Greene and Washington Fairs.
Kovach's hobbies include reading, hanging out with her boyfriend, and she also enjoys working with her animals for 4-H.
Madison Kovach, Editor-in-chief
Oct 17, 2018

4-H Paper Clover Campaign 2018

(Story)

Oct 11, 2018

Homecoming Court 2018

(Story)

Oct 11, 2018

Fall Craft and Vendor Show

(Story)

Oct 04, 2018

Greene County Rabbit Club

(Story)

Oct 04, 2018

Messiah College Open House

(Story)

Sep 28, 2018

Who Has JM Pride?

(Story)

Sep 27, 2018

Library Club Donates Mini Disaster Relif Kits

(Story)

Sep 26, 2018

What's New at JM?

(Story)

Sep 21, 2018
Sep 19, 2018

Michael Ludrosky – Athlete Biography

(Story)

Sep 18, 2018

Justin Maddich – Athlete Biography

(Story)

Sep 14, 2018

Gary Keylon Visits the Students of JM

(Story)

Sep 04, 2018

Kovach Crowned 2018 Greene County Fair Queen

(Story)

May 21, 2018

2018 Kindergarten Mother's Day Tea and Wedding of P & Q

(Story)

May 01, 2018

Varsity Volleyball Sign Ups

(Story)

Apr 27, 2018

2018 Officer Training

(Story)

Apr 20, 2018

Sephora Tops All Other Beauty Retailers

(Story)

Apr 11, 2018

Spanish Club Visits, "Latin American Rhythms"

(Story)

Apr 05, 2018

Logan Rhodes – Athlete Biography

(Story)

Mar 23, 2018

Looking For a Leader

(Story)

Mar 20, 2018

Need a Summer Job?

(Story)

Mar 16, 2018
Mar 15, 2018

2018 Prom Preparations

(Story)

Mar 06, 2018
Mar 01, 2018

JM Welcomes New Student

(Story)

Feb 28, 2018

Motivational Stickers Step Up JM Pride

(Story)

Feb 22, 2018

PA 4-H Animal Science Camp

(Story)

Feb 20, 2018

Teasdale Takes Fourth WPIAL Title

(Story)

Feb 16, 2018
Feb 14, 2018

Valentine's Day Candy Grams

(Story)

Feb 08, 2018

Spreading JM Pride

(Story)

Feb 08, 2018

New Rabbit Club Officers

(Story)

Feb 02, 2018
Jan 31, 2018

JM Drama Says Hello to Bye Bye Birdie!

(Story)

Jan 26, 2018

PaSRBA 2018 Shows

(Story)

Jan 24, 2018
Jan 18, 2018

United States Botanic Gardens and Conservatory

(Story)

Jan 12, 2018

Washington D.C. 4-H Trip

(Story)

Dec 19, 2017

Julie Policz – Athlete Biography

(Story)

Dec 18, 2017

Louie Debolt – Athlete Biography

(Story)

Dec 18, 2017

Autumn Gustovich – Athlete Biography

(Story)

Dec 18, 2017

Elementary Christmas Program

(Story)

Dec 15, 2017

4-H Christmas Caroling

(Story)

Dec 14, 2017

North Korea Facing Great Aftershocks of Hydrogen Bomb

(Story)

Dec 07, 2017

Track and Field Boosters Continue to Fundraise For Team

(Story)

Nov 29, 2017
Nov 22, 2017

New Members Selected for National Honor Society

(Story)

Nov 17, 2017
Nov 16, 2017
Nov 09, 2017

Carl Sargeant Incident

(Story)

Nov 03, 2017
Nov 03, 2017

2017 Lucas Oil AQHA Show

(Story)

Oct 27, 2017

National Pit Bull Awareness Month

(Story)

Oct 26, 2017

Drama On the Sidelines

(Story)

Oct 13, 2017

Honoring Nick Hillsman

(Story)

Oct 13, 2017

4-H Paper Clover Campaign

(Story)

Oct 12, 2017

EIA and WVN Outbreaks In Tennessee

(Story)

Sep 29, 2017
Sep 21, 2017

Penny Chenery Passes Away At 95

(Story)

Sep 15, 2017

2017 Homecoming Court

(Story)

Sep 15, 2017

2017 Annual District Horse Show

(Story)

Sep 14, 2017

Payton Wright – Athlete Biography

(Story)

Sep 14, 2017

Megan Pecjak – Athlete Biography

(Story)

Sep 13, 2017

Zack Gamble – Athlete Biography

(Story)

Sep 13, 2017

Colten Davidson – Athlete Biography

(Story)

Sep 06, 2017

Policz Crowned 2017 Greene County Fair Queen

(Story)

Sep 06, 2017

Policz Crowned 2017 Greene County Fair Queen

(Story)

Apr 27, 2017

Caitlyn Dugan – Athlete Biography

(Story)

Apr 27, 2017

Zack Gamble – Athlete Biography

(Story)

Mar 06, 2017

More Book Friendly Classes

(Story)

Feb 21, 2017
Feb 16, 2017

White Thoroughbred Being Sold In Auction

(Story)

Feb 02, 2017

Califorina Chrome

(Story)

Jan 18, 2017

Nathan Bilonick – Athlete Biography

(Story)

Sep 13, 2016

Abigal Ozohonish – Athlete Biography

(Story)