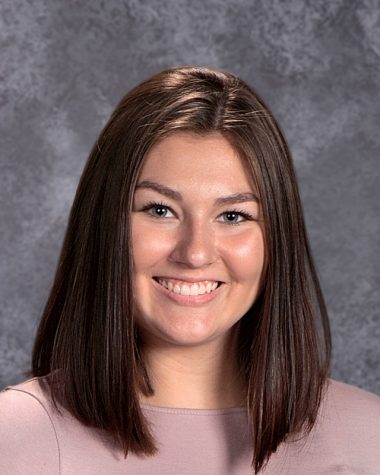 Makenzie Wright is a junior and a first year Journalism student.
Makenzie is a three sport athlete, participating in volleyball, basketball, and cheer leading. She is a member of the Leo Club, National Honor Society, and the Academic Team.
Makenzie likes to shop, read, and spend time with her friends and family outside of school.
Makenzie Wright, Contributor
Apr 16, 2018

Madelyn Van Divner – Athlete Biography

(Story)

Apr 10, 2018

Give Thanksgiving a Chance

(Story)

Apr 03, 2018

Beauty Standards in Young Women

(Story)

Mar 06, 2018

Less School, More Sleep

(Story)

Jan 24, 2018

Abigail Ozohonish – Athlete Biography

(Story)

Dec 18, 2017

Hello 2018, Goodbye 2017

(Story)

Dec 06, 2017

Drama Club Set to Rock on Saturday

(Story)

Nov 22, 2017

Cohen v. Westwick

(Story)

Nov 22, 2017
Nov 03, 2017

High School Students Celebrating Fall

(Story)

Sep 18, 2017

Katrina Schmolke- Athlete Biography

(Story)

Sep 18, 2017

Autumn Gustovich- Athlete Biography

(Story)

Sep 18, 2017

Randi Agnew- Athlete Biography

(Story)

Sep 06, 2017

Makenzie Wright- Contributor

(Story)