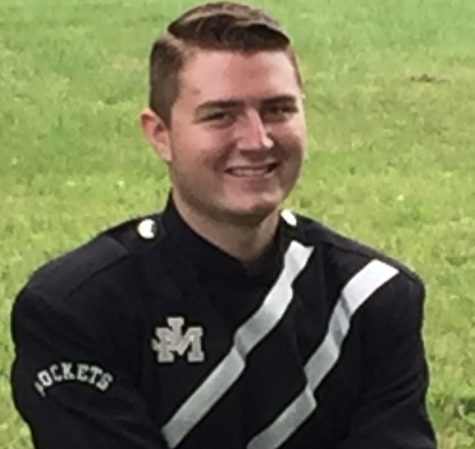 Nicholas Headley is a senior and a Journalism student.
Nicholas is involved in marching and concert band, Drama Club, Student Council, and is a member of the National Honor Society. He is also heavily involved in the Boy Scouts of America, where he has achieved the rank of Eagle Scout.
Nicholas enjoys playing video games and listening to music, in addition to marching in the marching band. He also enjoys spending time outdoors with his friends, while enjoying each other's company. Lastly, he likes spending time with his family and talking about the world around them.
Nicholas Headley, Editor
May 24, 2017

The Thought I Thought I Would Never Think

(Story)

May 19, 2017

The Trip of a Lifetime

(Story)

May 18, 2017

Ultimate Home Theater

(Story)

May 12, 2017
May 09, 2017
May 05, 2017

Trip Through the Safari

(Story/Media)

Apr 26, 2017

Apple Takes the Wheel

(Story)

Apr 21, 2017

Walt Disney World's Most Overrated Attractions

(Story)

Apr 11, 2017

Erin Confortini – Athlete Biography

(Story)

Apr 07, 2017
Apr 05, 2017

Quest for Redemption

(Story)

Mar 31, 2017
Mar 23, 2017

Deeper in Kahoots

(Story)

Mar 23, 2017
Mar 22, 2017

The Future Is Now

(Story)

Mar 15, 2017

The Best of The Best

(Story)

Mar 08, 2017

Pollution Hits Hard

(Story)

Mar 01, 2017

Mobile World Congress 2017

(Story)

Feb 22, 2017
Feb 16, 2017
Feb 15, 2017

Unlimited Data Plan

(Story)

Feb 09, 2017

Trump's Immigration Ban

(Story)

Feb 08, 2017

Snap's Spectacles

(Story)

Feb 02, 2017

President Trump and Climate Change

(Story)

Feb 01, 2017

Best College Laptop

(Story)

Jan 26, 2017
Jan 25, 2017

Galaxy Note 7 Results

(Story)

Jan 19, 2017

Apple AirPods Review

(Story)

Jan 12, 2017

Cole Tretinik – Athlete Biography

(Story)

Jan 11, 2017
Dec 15, 2016
Dec 14, 2016

The Best Phone You Can Buy

(Story)

Dec 07, 2016

New MacBook Pro: The Good, The Bad, The Ugly

(Story)

Dec 02, 2016
Nov 23, 2016

Rocket Reporter Holiday Gift Guide

(Story)

Nov 17, 2016
Nov 16, 2016
Nov 10, 2016

Veterans Day Service

(Story)

Nov 09, 2016
Nov 09, 2016

Living Dangerously

(Story)

Nov 02, 2016

Apple Mac Even: The Latest

(Story)

Oct 26, 2016
Oct 21, 2016
Oct 18, 2016

They're Creepy and They're Kooky…

(Story)

Oct 14, 2016
Oct 12, 2016

Samsung's Galaxy Note 7 Disaster: What's the Latest

(Story)

Oct 05, 2016

Pittsburgh Penguins Home to Become PPG Paints Arena

(Story)

Sep 28, 2016
Sep 23, 2016

Colten Davidson – Athlete Biography

(Story)

Sep 23, 2016

Justin Silbaugh – Athlete Biography

(Story)

Sep 21, 2016

Apple: Flying or Dying

(Story)

Sep 20, 2016
Sep 16, 2016
Sep 14, 2016

iPhone 7 and 7 Plus: Everything You Need to Know

(Story)

Sep 07, 2016

Rocket Reporter Back to School Guide 2016

(Story)